By Kara Linaburg
Wife and mother of three, Sarah Benson, started creating clean, plant-based products for her family out of concern about the chemicals found in cleaning and beauty merchandise sold in the general market.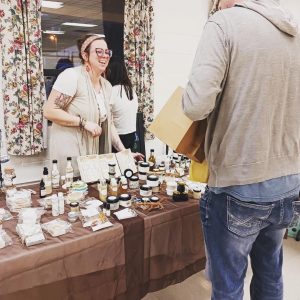 Over time her passion for homeopathic remedies turned into a growing business, and she quickly realized that others shared her love for all-natural alternatives. "It was a small scale… for myself and my family. I didn't really expect to turn it into a business," Benson said.  
Her brick and mortar storefront, Soul Miner's Daughter at 221 Pike St. in Shinnston, opened its doors in August 2022, but she also sells online and at local events. She has since created a wide range of merchandise, including cleaning spray, beard oil, chapstick, facial toner, dish soap, and tea.  
Benson explained that homeopathic remedies have always been an interest. "I've always been into the oils. I've kinda lived that way for a little bit, and I've gotten a lot of herbal medicine books." 
She went on to explain the difference between what she sells and the more familiar name-brand products many use in their homes. 
"With my products, there are five, six, ingredients tops, and if you get anything off the store there's going to be a laundry list of ingredients that you're not even going to be able to pronounce," she said. Benson is concerned about the side effects these toxic chemicals can have on bodies. "It's obviously not to replace medicine, but if you can replace your soap with one less harmful chemical, why not?"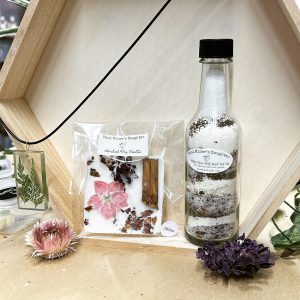 Benson said that the products on her shelves are what have worked for her and her family, and one of her favorite products so far is the toner. "I use it regularly. I use most of my products regularly, but this one is a high seller and it works. It made a huge difference (for) my personal skin. I (also) do an all-purpose healing salve called Nana's Cream, and that one sells really well. That was actually a recipe that my mom had passed down to me, and it's one of those staples that we use in my house. We put it on everything." 
Benson's goal is to not only sell items that have been proven to work, but to also sell the product at prices locals can afford. "I don't put a price on my product that I wouldn't be willing to pay," she said.
As she continues to get returning regulars and positive reviews, it seems that locals would agree that her products are not only affordable but well worth checking out. 
"When I first discovered Soul Miner's Daughter, I was delighted to finally be able to shop local and clean together in one place," said Maria Cusack. "It's been so exciting to see the business grow into a full shop in Shinnston! I regularly use Sarah's products and I am never disappointed."
Benson said that her favorite part of owning Soul Miner's Daughter is being creative. "If I want to carry something new, I can; all I have to do is make it. And if I don't want to carry something anymore, I can. It's kinda like an art form, it really is." 
Soul Miner's Daughter is open downtown Monday, Thursday, and Friday from 12-7 p.m. and Saturday from 10-12 a.m. Or you can shop online at https://soulminersdaughterwv.com.