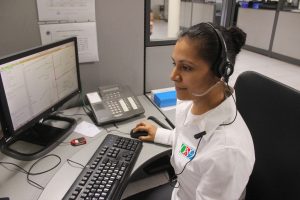 By Erin Beck
Editor
A long-awaited communications tower that should improve emergency response in isolated parts of Harrison and nearby counties is nearing completion, 
When complete, the tower, located near the Wallace area, will serve residents and first responders in rural parts of Harrison, Wetzel, Tyler, Doddridge, and Pleasants counties, according to emergency officials. The tower will allow emergency officials to communicate with each other and dispatchers. 
John Hatfield, deputy director for Central Communications, Doddridge and Ritchie county's 911 service, said the communities of Wallace, Center Point, Jacksonburg, and Folsom, among other nearby areas, would benefit.
"A couple of weeks ago, Wallace had a house burned down not too far from the tower," he said. "They had no issues finding the location, to my knowledge, but once on scene, they had problems talking back to Harrison 911."
Hatfield said the lack of a communications tower in the area has contributed to slower response times. 
 "For instance, if a fire company needs additional resources and if they are having trouble with telling us what they need, we can't get that for them," he said.
The project has been going on for approximately two years, according to emergency officials.
"We started this a couple of years ago thinking it would be done in six months," Hatfield said. "That wasn't the case."
Hatfield said there were delays in receiving equipment. Securing equipment from overseas, even pre-pandemic, has been the "largest hurdle," he said.
Emergency officials are now at the final stage, requesting licensure to use certain frequencies from the FCC. During a previous attempt, the FCC canceled their license after it went unused too long.
Paul Bump, Harrison/Taylor 911 director, said he anticipated the tower would be in operation within a few months. 
"That might be a little optimistic, but that's what I'm hoping for," he said.
He said antennas were installed last month. 
"It's an extremely rural area," he said. "And these are always going to be problematic. We're hoping that this one does fix some of the issues out there. You will never ever have the coverage you want in those rural areas. We just can't – nobody can afford that. There's always going to be a hollow somewhere to where your walkie-talkie is not going to work. It's just – that's life in the country."